Special Academy Award - Barbara Fischer & Giles Foreman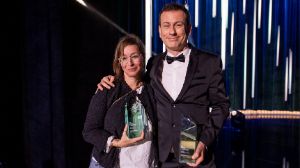 Authentic performances have - and always will be - paramount for us to relate to the stories we tell on screen, may that be small arthouse films or big budget series. Over the past 2 decades, numerous Swiss actresses and actors have shown us the impact of memorable and heartfelt performances. But what exactly makes a performance so unique that it resonates long after the ending of the film?
Tonight, the Swiss Film Academy wants to shine a spotlight on two artists who stand behind many of our celebrated actors. Their relentless mission to enhance storytelling with their technique in movement psychology - based on the works of the dancer Yat Malmgren - has brought the performing arts in Switzerland to international heights. «Radiating Adream; Time stressed Near; bound flow going free; strong, flexible quick» are just a hand full of expressions that have a spellbinding effect on first-time listeners. Yet, this magical sounding language remains by no means theoretical. It lets us comprehend that each and every one of us has a distinct flow of energy and movement, deeply rooted in our pasts, revealing who we are and what we do. Through intensive training, this approach allows to shape 3-dimensional characters that our audience shall remember vividly.
We wish to acknowledge their remarkable achievements in this years films such as 'Semret' and 'Une Histoire Provisoire', as well as their contribution with expertise, imagination and sensitivity to over 30 features and 5 television series all across Switzerland.
We are thrilled to announce that the Special Quarz Award 2023 goes to: The acting coaches Barbara Fischer and Giles Foreman.